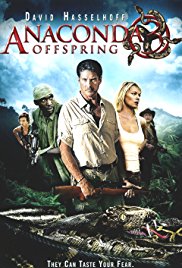 Have you ever wondered who would win a battle between David Hasselhoff and a giant 100 foot snake?  Long before Sharknado, Hasselfhoff battled with Anaconda.  Join Ron and Little Miss Horror Nerd as they take a look at the penultimate film in the Anaconda franchise, The Offspring.
An eccentric billionaire has created a research foundation to study the effects of the Blood Orchid.  Two of their test subjects, gigantic anacondas have escaped…and mated. This is not good for humanity, but even less so for the people in the research facility and the snake hunters that are called in to capture them.  Things are about to get crazy.
Also in this episode, free of charge, Jessica tells her exploits of someone who had a large "snake" in college.
The post Episode 384: Anaconda 3 – Offspring appeared first on The Resurrection of Zombie 7 Podcast.