Visit https://podnews.net/update/scales-of-justice for all the links, and to get our newsletter.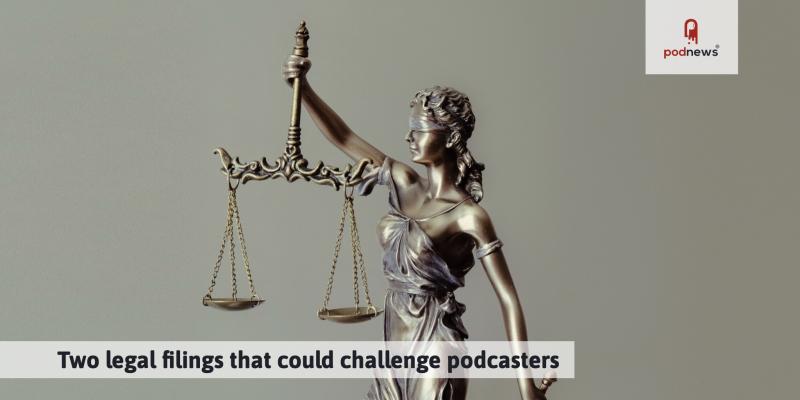 ---
Classifieds
-
your job or ad here
What are the top search queries for your show? 🔍 — Find out for which search queries your show ranks within Apple Podcasts and Spotify. Boost your ranking on those keywords and start growing your audience with Voxalyze!
Host your podcast videos the right way! — Video podcasts have the potential to attract millions of viewers and listeners simultaneously. Disctopia allows you to upload podcast videos and automatically add them to your RSS feed - It's Magic!
The world's largest conference for podcasters — returns this summer to Dallas! 💣 🎉 PRICES GO UP THIS WEDNESDAY to join thousands of podcasters at the one can't-miss podcast event of the year: Podcast Movement 2022. Plus code PODNEWS saves $50!
Business & Legal Fundamentals For Podcast Growth & — What if getting the "legal stuff" for your podcast was fast, easy and do-it-yourself-able? Join The Podcast Lawyer™ Gordon Firemark for this free online workshop. August 16th 9am PDT
---
%%subscribe%%
Tips and tricks
Readers and supporters:
Gold supporters:Buzzsprout, Mowpod, Mamamia, Resonate Recordings, audioBoom, Simplecast, Cohost, PodOps, SALT, Callin, Rococo Punch, Podvine, Riverside.fm, Podcorn, Cadence13, Pineapple Street Studios, Spreaker, Jar Audio, Podchaser, Awesound, Acast, LWC Studios, TED Audio Collective, Focusrite, Knit, Engle, ART19, The Roost, Advertisecast, Podmetrics, Evergreen Podcasts, Luminary, Disctopia, ElasticPod, Libsyn, We Edit Podcasts, Podpage websites, Knucklehead Media Group, Adonde Media, One of One Productions Podcast S, Megaphone
Silver supporters:Storic Media, Veritonic, Podcode, Gumball, Jonekiri, Osiris Media, Cloud10, Storyboard, Terra Firma Audio, Polymash, Omny Studio, Message Heard, SoundMedia, Podscribe, Bullhorn, Health Podcast Network, Julep Hosting, Julep Podcast Marketing, Heartcast Media50, Barevalue, Podcast Taxi, Pacific Content, Double Elvis Productions, matchmaker.fm, Latina Podcasters Network, The Podcast Engineer, Oxford Road, NPR, Optimal Living Daily, Castos, Maps.fm, SPI, Notetracks, Castbox, Glisten Media Podcast Production, Transistor, Hindenburg, Podcast Guests, Whooshkaa, Cleanvoice, Lemonada Media, Jam Street Media, Ossa Collective, Zvook, Podcastpage, 18sixty, Sonic Influencer Marketing, Wondery, Rephonic, Transmitter Media, Podcast Ad Report, Kast Media, Headliner, RockWater Industries, Bababam, Blubrry, Diversion Podcasts, Know or Not? Podcast Network, Ad Results Media, Content10x, DAX, Rachel Corbett\s Podschool, EverythingWithPodcasting, Podcast Partnership, StreamGuys, Chartable, She Podcasts, Stakhanov, School of Podcasting, Lower Street, Podigy, Cleanfeed, Margarita Noriega, Veritone One, Adopter Media, Podknife, Podcast Movement, Sonix, Revolver Podcasts, adswizz, Edison Research, Signal Hill Insights
Our personal supporters: Amy Woods, Horse Radio Network, Armel, John, Mikel Ellcessor, Aaron Dowd, Neil Mody, Gene Monterastelli, David Lloyd, Matthieu Beauval, Matt Wade, Steven Goldstein, Mirko Lagonegro, Andrew Davies, Andy Maher, Jason DeFillippo, Gareth Evans, Kara Silverman, Dave Shaw, Arion Potts, Liz Covart, The Virtual Couch, Eric Hunley, Justin Jackson, Jack Rhysider, Bret Kinsella and Voicebot.ai, Josh Withers, Matt Deegan, Karen Jackson, They Walk Among Us, CESLIE Armstrong, Oh God, What Now, Stabl, Søren Hugger Møller, Patrick K. Walsh, Tom Webster, Bradford Swanson, Mike Rapin, Ed Sullivan, Benjamin Masse, Eric Nuzum, Brett Johnson, Thomas Umstattd Jr., Eric John, Lindsay Graham, Steve Stewart, Philip D Theophilus, ShEvo (Sheila Dee & Evo Terra), Joe Stone, Jeanette Burke, Owen Grover
Support Podnews, and our industry
Support us - this feed for Com.castamatic
Image: Tingey Injury Law Firm